Our Strengths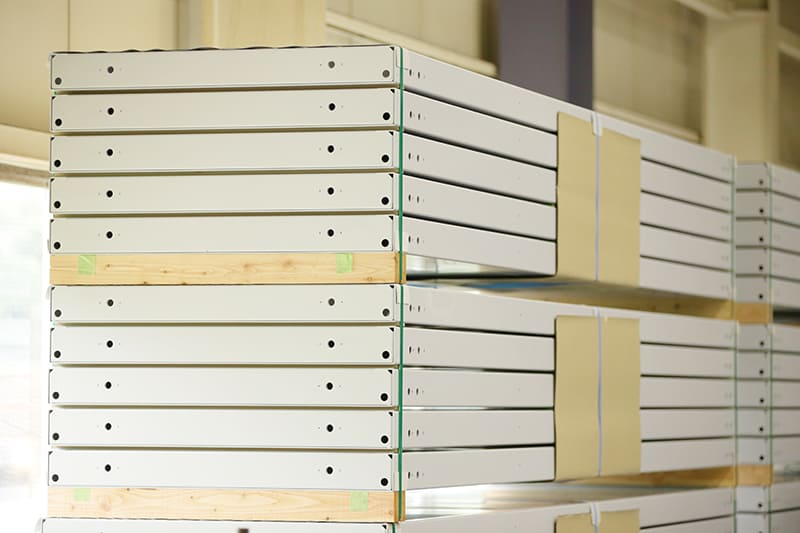 Large-size products can be manufactured and stored
Our-factory's stockyard is specious enough to accommodate manufacturing and storing of large size products. Overhead cranes and other equipments allow smooth storage and transportation.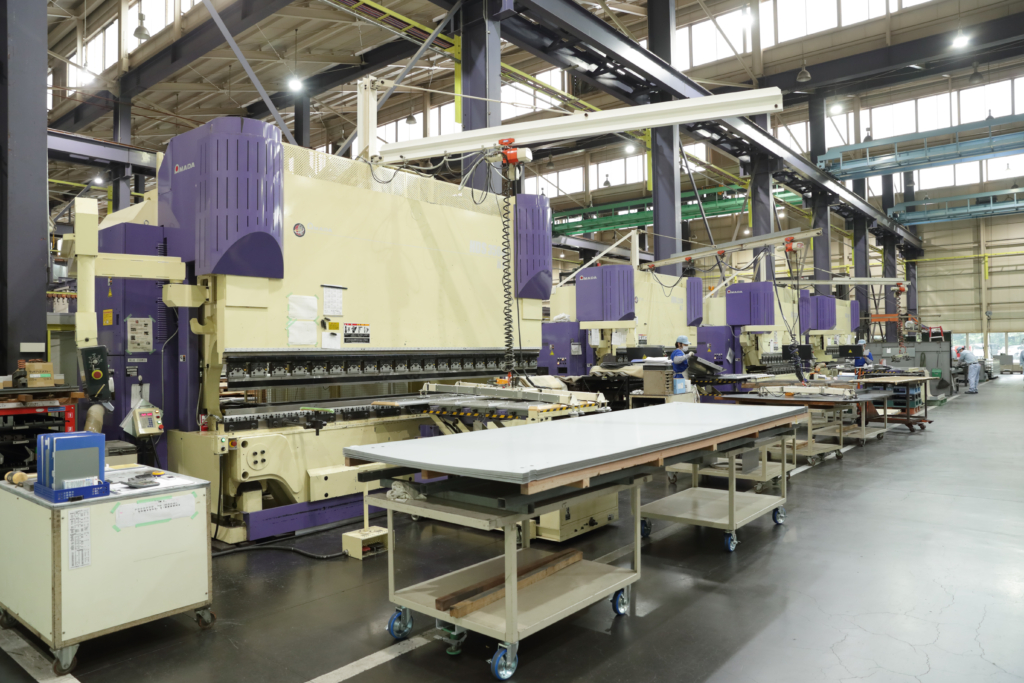 From designing to finishing
We have the equipment and the technology to complete everything in-house : designing, sheet metal processing, welding, pre-coating, powder coating, assembling, and finishing.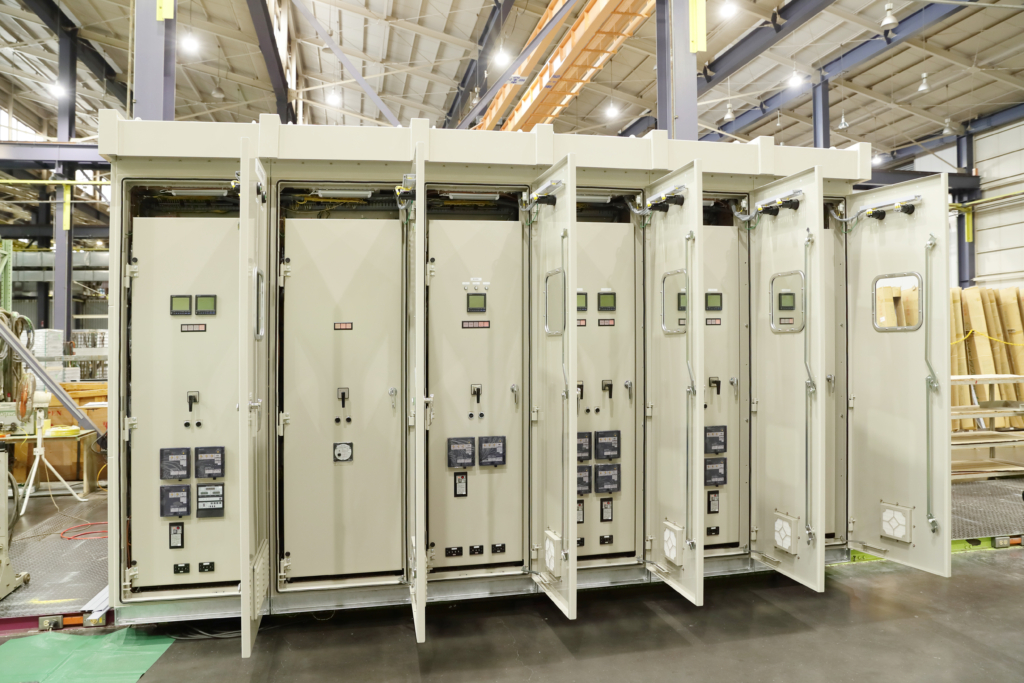 Thorough quality control
We provide highly reliable products through strict quality control.
Quality policy
To earn the trust and satisfaction of our customers,
we act with the highest priority on quality.
We will strive to continuously improve quality, cost, and delivery.
We will comply with legal and regulatory requirements.
Each employee has a rewarding and challenging spirit. We aim to improve the work environment.
October. 23, 2018
Tatumi Electric Co., Ltd.
President Takehiko Sano
Environment-friendly products
Environmental policy
Tatumi Electric Co., Ltd. will promote sustainable environmental improvement through our business activities in the manufacturing of soundproofing devices and boards, based on the following environmental policy.
All employees will work together to protect the environment and prevent pollution.
We will comply with environment-related laws, regulations, ordinances, and other requirements to which we agree.
Production flow
Tatumi Electric Co., Ltd. has the facilities and technologies to completes all processes in-house: design, sheet metal processing, welding, powder coating, assembling, testing, and shipping.
We also manufacture large size products using overhead cranes.
Design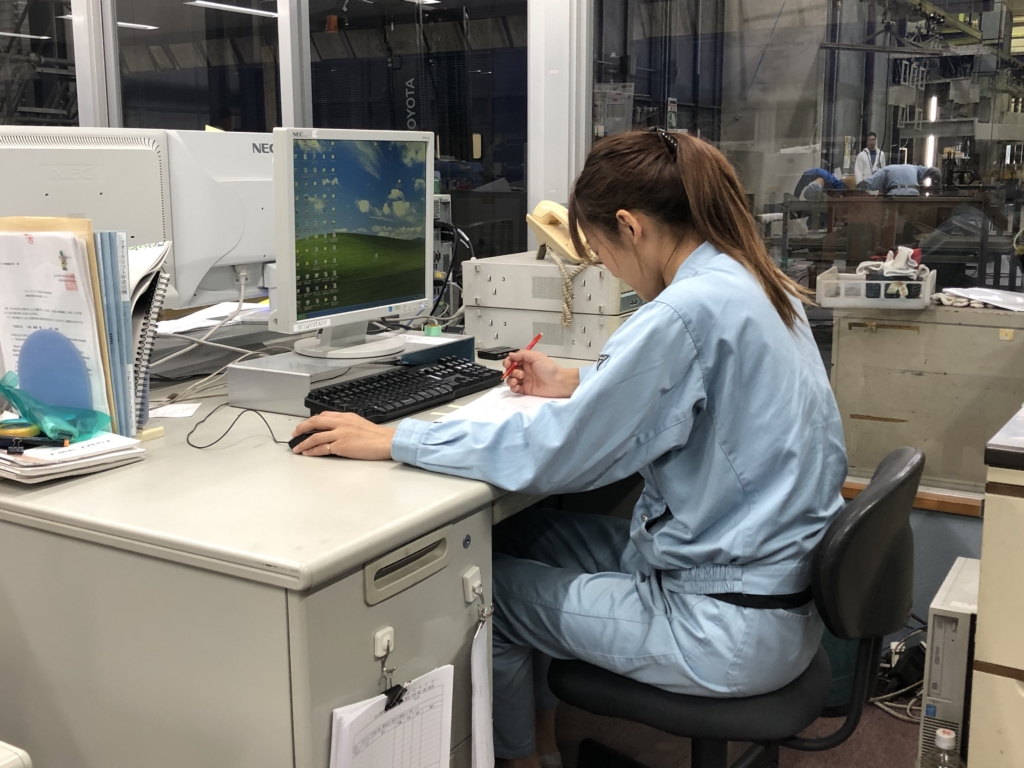 We create approval drawings and design 2D/3D in-house according to the customer's requirements. For switchboards and control panels, we also offer electrical design services. For soundproofing boxes, we propose and design the soundproofing performance, etc based on the noise data provided by the customer. We also develop our own products. In addition, we create data for sheet metal processing based on 2D/3D CAD data.
Machining
We specialize in large sheet metal processing. W1500 mm x L4000 mm (2000 kgs / package) can be processed by punch/fiber laser combination machine with an automatic loading/unloading device. The bending machine can bend products up to L4000 mm with a maximum pressure of 350 tons. Each bending machine is equipped with a tracking device, allowing to bend large heavy products with a small number of people.
Welding Process
Welding is mainly performed using CO2 (semi-automatic) welding. Argon welding and spot welding are also possible.
Powder Coating
In the pre-coating process, alkaline degreasing ⇒ rinsing with water ⇒ Zinc phosphate coating (Parker treatment) is performed in 6 tanks(W1500 mm x D3000 mm x H3000 mm). Two coating booths and drying furnaces are equipped for powder coating. The maximum powder coating size is L5000 mm x H2000 mm. Size and coating specifications are available upon consultation.
Assembly
For switchboards and control boards, we can handle all processes from low voltage to extra high voltage, including housing assembly, electrical wiring, and testing. For the soundproofing boxes, we have experience of assembling H5000 mm x W6000 mm x L13000 mm using an overhead crane with a lift of 8000mm. Soundproofing panels cover a wide variety of types, from small-lot production to mass production.
Shipping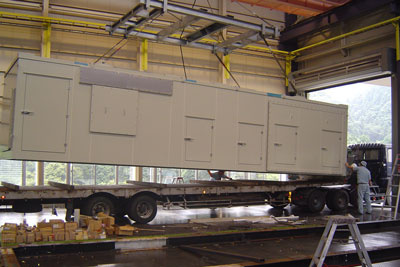 All large products are shipped from the factory using overhead cranes.